About Revelop
Revelop goes to places where no one else is looking. And spaces that might not even exist to others. We seek opportunities where others see challenges. We invest in places where we can create a positive, lasting impact by repositioning and developing real estate with a distinct focus on sustainability. And we always give more than we get – because our operational framework is contributing to the foundation of a new, more sustainable society.
With our value-added approach, we invest in local submarkets with strong structural growth prospects and acquire commercial real estate with potential. We reposition and transform real estate in Sweden's main city regions through active management and development.
Our Strategy
We execute on our investment strategy through our dedicated vertically integrated in-house organization, consisting of 35 professionals within investment-, asset and property management. We've been active since 2004 and have consistently delivered high risk adjusted returns with a documented top tier track record. Our investors are highly reputable Nordic and European institutional investors.
We challenge conventions in response to the ever-changing social and business environment for the benefit of our customers, our investors and the society as a whole. Revelop employs a rigorous ESG framework with an emphasis of creating meaningful positive impact. Revelop Management AB is independent and privately owned.
ESG & Sustainability
For us at Revelop, sustainable property management and development is a fundamental direction. By building on something already existing, rather than creating something new, we limit our use of superfluous land or natural resources. Instead, we create modern and "green" properties from old, forgotten, "brown" buildings – and at the same time contribute to denser, livelier and safer communities where people thrive and develop. 
We deliver an attractive financial return on invested capital and significant added value by focusing on sustainability. Each individual investment has a sustainable journey that impacts the environment and local society in a positive way.
We adopt a long-term life cycle strategy that extends beyond our individual business plans – even beyond our ownership. Our strategy is to refine and reposition existing commercial real estate and extend the life of the buildings in line with the current position and future potential of each submarket. In this way, we create sustainable economic, ecological and social values.
Investors
We have a consistent strong track-record of creating superior value and delivering profits through active management, development and regeneration. We focus on opportunities where our size and expertise give us competitive advantage. We are experts in the complex repositioning of real estate through refinement, redevelopment and regeneration.
Since 2004, we have raised in excess of SEK 7 billion in equity for our funds. Revelop has acquired and/or developed approx.
1 million sqm of real estate in Sweden across 85 assets, with an aggregate cost in excess of SEK 11 billion. Our current AUM is SEK 8 billion. Our investment returns have consistently outperformed both relevant peers and benchmarks across market cycles.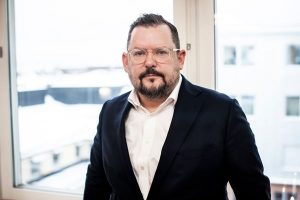 Erik Visteus – Head of Investor Relations
erik.visteus@revelop.se
+46 (0)768 944 576
Revelop IV has been ranked number 2 by Preqin in the category of best performing real estate funds launched in 2013-2018. The ranking is based on the IRR of the funds registered with Preqin.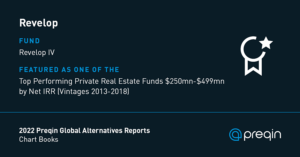 Meets the Requirements
Revelop is ranked in the top quartile of all real estate fund managers globally based on consistent performance over time.
The fund manager, Revelop Management AB, meets the strictest standards in terms of compliance and is regulated by the Swedish Financial Supervisory Authority (Finansinspektionen). We are compliant with the AIFMD. We also have the authorization to perform discretionary management of investment portfolios on a client-by-client basis and to provide investment advice within our markets.
Our ESG framework ensures we always deliver high monetary returns without forfeiting the society. We follow and make sure the investments, from a long-term perspective, will contribute to achieve the UN global goals in 2030.
Investment Strategy
We deliver superior investment returns by unlocking hidden potential in commercial properties through active asset management and development and transforming assets into core and sustainable real estate. Revelop utilizes in-house market research to analyze sub-markets with strong growth prospects and identify investment opportunities by focusing on the following factors:
Growth markets
Pinpoint areas of interest in local and regional development plans.

Areas benefiting from ongoing and future infrastructure projects.

Sub-markets which, in the long term, will benefit from tailwinds or regenerations.
Undermanaged assets
Assets with below market rents, vacancy or short lease duration and inefficient operations, assets or sites which are underinvested in or underutilized.

Mixed-use properties with unclear profile in need of repositioning or redevelopment.
Change of use/repositioning
Assets with low degree of exploitation and transformational potential in a changing environment.

Assets with flexible zoning that can be tailored to occupier needs.

Option to increase land value through increasing building rights or rezoning.
ESG
Find assets that can be transformed from "brown" to "green" to increase their value by reducing their environmental impact.

Identify forsaken assets that can be revived to create livelier and safer places where people can thrive.
Active Management
By engaging with local communities to understand their unique history, aspirations and connections to an area.
We get to know our sites closely and have direct involvement at the property level to optimize tenant improvements, operating costs, energy efficiencies, accounting/property reporting, sustainability services and technical planning. In-house leasing capabilities and direct tenant relationships provide Revelop with a unique view into the local marketplace.
Asset Management and Development
Vertical integration leads to a deeper understanding and differentiated views when underwriting investments, as well as executing business plans. Through our development model, we create places that put a community's needs and aspirations in focus. This leaves a legacy of positive long-lasting social and economic change for the communities in which we are active.
Contact
Group CEO & Executive Partner
Thomas Sipos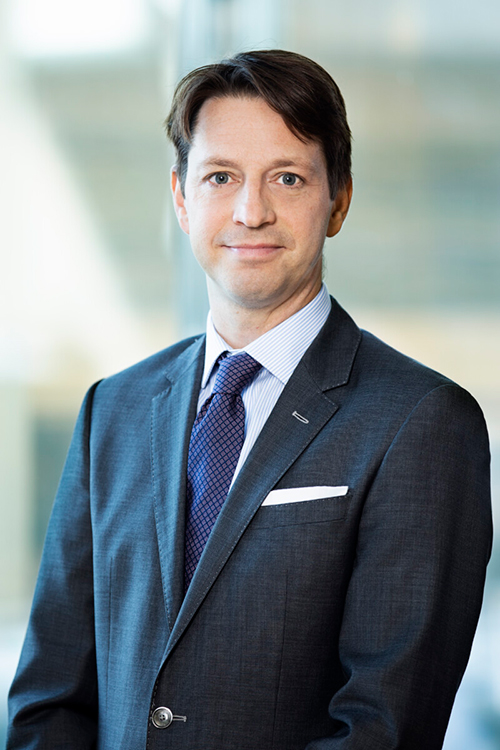 CFO, deputy CEO & Executive Partner
Anders Sylvén
Corporate Governance
The fund manager, Revelop Management AB, meets the strictest standards in terms of compliance and is regulated by the Swedish Financial Supervisory Authority (Finansinspektionen). We are compliant with the AIFMD. We also have the authorization to perform discretionary management of investment portfolios on a client-by-client basis and to provide investment advice within our markets.
Legal disclaimer
This page has been prepared by Revelop Management AB ("Revelop"). No liability whatsoever is accepted and no representation, warrant or undertaking, expressed or implied, is or will be made by Revelop, any member of the Revelop Group or any of their directors, officers, employees, advisers, representatives or agents for any information or any of the views contained herein or for any errors, omissions or misstatements. No part of this page may be reproduced in any manner, or used other than as intended, without the prior written permission of Revelop. Any opinions expressed herein reflects Revelop's judgment at the date of publication and are subject to change. Revelop accepts no liability whatsoever for any direct, indirect or consequential loss rising from the use of this page or its contents. This page does not constitute or form part of any offer for sale or subscription of or invitation of any offer to buy or subscribe for any interests or securities nor shall it or any part of it form the basis of or be relied on in connection with any contract or commitment whatsoever.